Do you know that terrazzo tiles can project a luxury look and feel out your floor? It is true. You, as a matter of fact, thinking otherwise will only mean that you are undermining the versatility and creative opportunities that terrazzo tiles give freely to architects and home designers.
The floor of a home speaks volumes. It is what tells your guests the worth and value of your home without you saying a word. Have you ever entered any of the iconic mansions around Australia? If yes, how do you feel about the glitz and glamour loudly pronounced by the interior space? Well, I know it's fantastic; and also that you will like it.
It may gladden your heart to know that you can also have a fantastic floor that will wow everyone that steps into your space. How? Terrazzo ties give you the unlimited creative opportunity to explore your mind and bring your very best design from your wildest imaginations.
There are endless creative possibilities when you create unique designs for your floor if you are working with epoxy terrazzo tiles. In the first instance, terrazzo tiles allow you to combine any abstract or geometric combination of glass, marble, and Mother of Pearl chips using any color of your choice. Not only that, but you can also create a fantastic work of art, including all kinds of shapes and patterns.
Terrazzo tiles can give your floor any look you want. It is left in your hands to develop an exceptional design or pattern that will stand out from the norms. Suppose you are considering using terrazzo tiles to create magic on the floor of your building, or you are planning to do terrazzo flooring in your next construction project. In that case, this article will help you find the right inspiration to come up with a unique geometric floor design with terrazzo tiles.
Terrazzo tiles in Modern Designs
Terrazzo tiles allow you the opportunity to modernize your indoor space, especially the floor, in a new, imaginative and innovative way with a geometric terrazzo pattern. Traditionally, terrazzo tiles consist of marble chips blended in a cementitious binder. However, the material has progressed to include a variety of high-quality materials, including glass chips and epoxy resin binder.
Terrazzo tiles have been in dominance in the world of home design right from its inception. But, the introduction of epoxy terrazzo tiles in the 1970s gave much more creative opportunities for home décor experts, architects, and interior designers to create more durable floors with a luxurious look and feel. Meanwhile, the unique geometric designs of epoxy terrazzo tiles enhance the aesthetics of living spaces and improve how occupants interact with the living space and their immediate environment.
You can use these geometric designs in any place, residential, commercial, or industrial. These designs are also suitable for any indoor (or even outdoor space), including airports, office buildings, schools and universities, hospitals, and municipal facilities.
Many experienced designers and artists can help you create an exceptional imaginative terrazzo design that will get all eyes gazing whenever they step into your space. Though there are also some DIY materials on the internet that you can use as a guide, you will need professional aid for the best result. Click here to read about The 7 Main Differences Between Poured in Place Terrazzo And Terrazzo Tiles.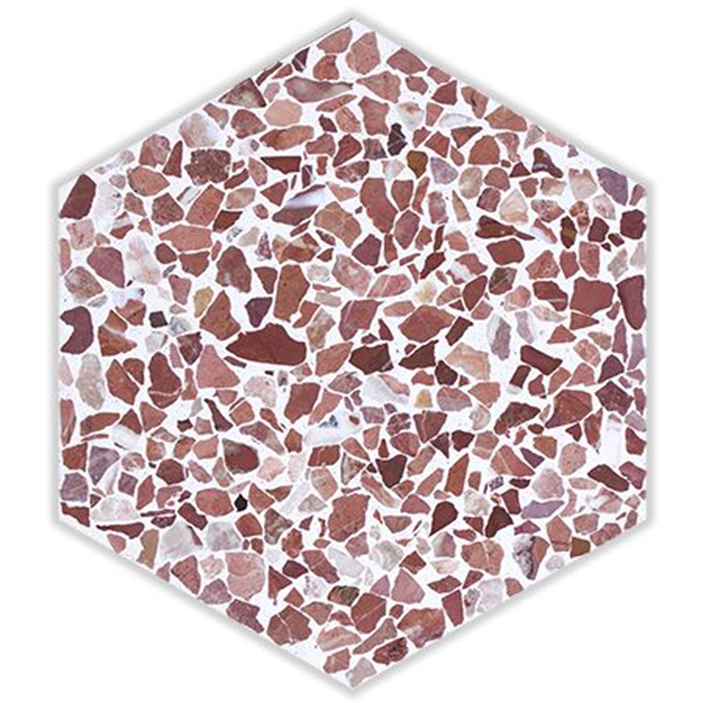 The unique shapes of Terrazzo Tiles Shapes – Squares and Rectangles
Of course, terrazzo tiles are versatile, but there seem to be some common [patterns peculiar to many luxurious homes far and wide the globe. For instance, rectangular and square floor patterns are examples of the more common designs you can create with epoxy terrazzo tiles. The divider strip layout is simple to place. For instance, the divider strips can intersect either diagonally or place perpendicular or parallel to one another. With this feature, designers and architects can create basket patterns, checkboard patterns, and borders within a given area.
The basic shapes of Terrazzo Tiles – Curves and Curves
The use of curves and lines is another widespread geometric pattern constantly coming up in modern terrazzo designs. For those that already have the experience, they can easily bend the divider strips to form the smooth grooves that can flow seamlessly across the floor of your building. When designers use divider strips for epoxy terrazzo tiles, they can extend it to about 30 feet. As simple as that may sound, it is a huge advantage for designers and architects who want to create larger living spaces. It allows much more flexibility and versatility than a cement terrazzo tiling system which merely extends to about 4 or 5 feet in length.
If you walk around, you will notice that most public spaces, such as hospitals and schools and use epoxy terrazzo tiles as the patterns to guide people to a more designated area of the room. The combination of curved and lines shapes produces an excellent finish. When designers combine the curved geometric patterns with any of the attractive colors in the palette, it makes the floor look its best, allowing it to act as visual cues.
Other Terrazzo Shapes – Ovals and Circle
Do you know that It is also possible for designers to use epoxy terrazzo tiles to form circles and ovals? Designers can widen geometric patterns to any circumference and diameter in a space—curved and square patterns are more common in the geometric design world than circle patterns. However, circles have their respective place in modern buildings as well.
Based on the current trend, it is more likely to see this pattern used for circular logos, or better still, use it in an art component in a public space project.
What are the Other Shapes You Can Create with Terrazzo Tiles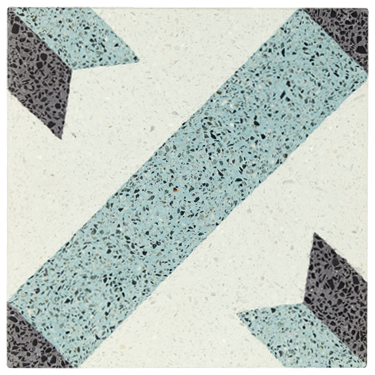 It is not a gainsaying that there is so much design versatility and flexibility with epoxy terrazzo tiles. For instance, you can design any floor with whatever pattern your mind can comprehend. Standard shapes like squares and curved lines are more common in modern terrazzo floor designs. However, there are other shapes you can consider. They include stars, crescents, hexagons, hearts, diamonds, and arrows.
Final Words
Terrazzo tiles can give your floor a fantastic look if you innovatively learn how to combine these geometric patterns. The above guide is meant to make you understand the fundamental geometric patterns of terrazzo tiles. You can make a whole lot of modern designs if you adhere to the instructions correctly